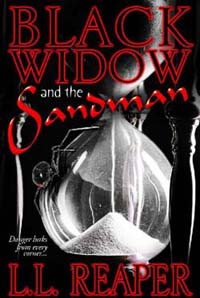 The draft script of Black Widow and the Sandman (BWATSM) has made it into the quarter-finals of the 2015 Screencraft Action/Thriller Screenplay Contest. We (authors Curtis Alcutt and Deatri King-Bey writing as L.L. Reaper) are so proud you can probably see the glare from our smiles.
This is a big step towards seeing BWATSM produced, but we are keeping things in perspective. This is by no means the beginning of our journey or the end. We are both multi-published, best selling, award winning fiction authors, but writing screenplays is a tad bit different. Well, maybe more than a tad, but you get the picture. Needless to say, we've had a learning curve.
I (Deatri) used to refuse to watch movies that were based on books because they were so different. I didn't understand why they'd cut so much and change the plot lines. Now I do. A screenplay isn't even 25% as long as the book. Our book is over 80,000 words and the screenplay 15,000. Scary, huh? The trick is incorporating enough of the original manuscript into the script to maintain the integrity of the series, yet changing it enough to fit a screen adaptation. This has been fun and believe it or not, we've actually improved the story. Yep.
Sooooo, after we finish writing book three, we are going back to the beginning and adding the plot line that we added for the script. I'm pretty sure you'll love the improvements. We are also planning on dropping our pen name L. L. Reaper and rebranding the series under our names. This should be interesting.
Anywhooooo, I'm off to the writing cave. We'll peek out again to give updates and all that good stuff.